Hot Keywords: Cable Wire Control Cable Low Voltage Mineral Aluminum Cable
全部
全部
产品管理
新闻资讯
介绍内容
企业网点
常见问题
企业视频
企业图册
EU environmental protection cable, leading the cable industry for 25 years
25 years of brand precipitation
---
☆ Focus on R&D and production of wire and cable
☆ Variety of product specifications, customizable
☆ strictly in accordance with the ISO9001 quality management system management and operation
Production meets domestic standards
---
☆ Use high-precision, high-purity, impurity-free environmentally friendly raw materials
☆ Professional R&D production laboratory and testing center
☆ Each product can be shipped out after precise inspection and screening to further ensure product quality
Strong production scale
---
☆ Advanced cable production equipment
☆ Large-scale production base
☆ Strictly control product quality to ensure that each finished product reaches your hands
Perfect after-sales system
---
☆ Service outlets cover the whole country
☆ 24-hour service, 60 minutes quick response
☆ One-stop service allows you to worry and save time
☆ Perfect service system allows you to enjoy the whole process
High flame retardancy
The environmental protection cable completely guarantees the building requirements that require high fire safety. The cable is not flammable in the event of a fire, and it can prevent the spread of the flame after the combustion and the expansion of the disaster.
Halogen-free
The use of green insulating layer, sheath and special oxygen barrier material not only has good electrical properties, physical and mechanical properties, but also guarantees that the product does not contain halogen, solves the "secondary pollution" formed during its combustion, and avoids When traditional PVC wires burn, they can cause cancer-causing "dioxin" substances.
Low toxin
The insulation and sheathing do not contain lead, cadmium, or other heavy metals that are harmful to the human body and do not pollute the soil or water sources during cable use and disposal.
25 years focused on R&D and production of wire and cable
No corrosion gas
The use of new special coating materials that are environmentally friendly will not produce HCL and other toxic gases during production, use, and combustion, and will emit very little sour gas, which will cause less damage to personnel, equipment, and instruments, and will be more environmentally friendly.
High transmittance
The smoke produced when the cable is burned is extremely thin, which is conducive to the evacuation of personnel and the execution of fire fighting. The light transmission rate of the product is more than 40%, which is far higher than the standard of less than 20% of the transmission rate of the traditional flame-retardant cable.
Waterproof, UV protection
Uses a special molecular structure of green materials to ensure ultra-low water absorption. Special UV absorbers provide good UV protection. Guarantee the safety of this type of product and prolong its service life.
JIN HUAN YU
- PROCUTS CENTER -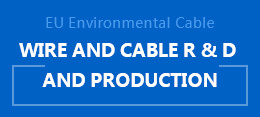 Shenzhen Jinhuanyu Wire and Cable Co., Ltd.
Is a professional production of wire and cable products of modern large-scale backbone enterprises. Founded in 1993, the company is located in the western industrial zone of Tantou, Songgang Town, Bao'an District, Shenzhen. It now has a production base of more than 50,000 square... [ More ]